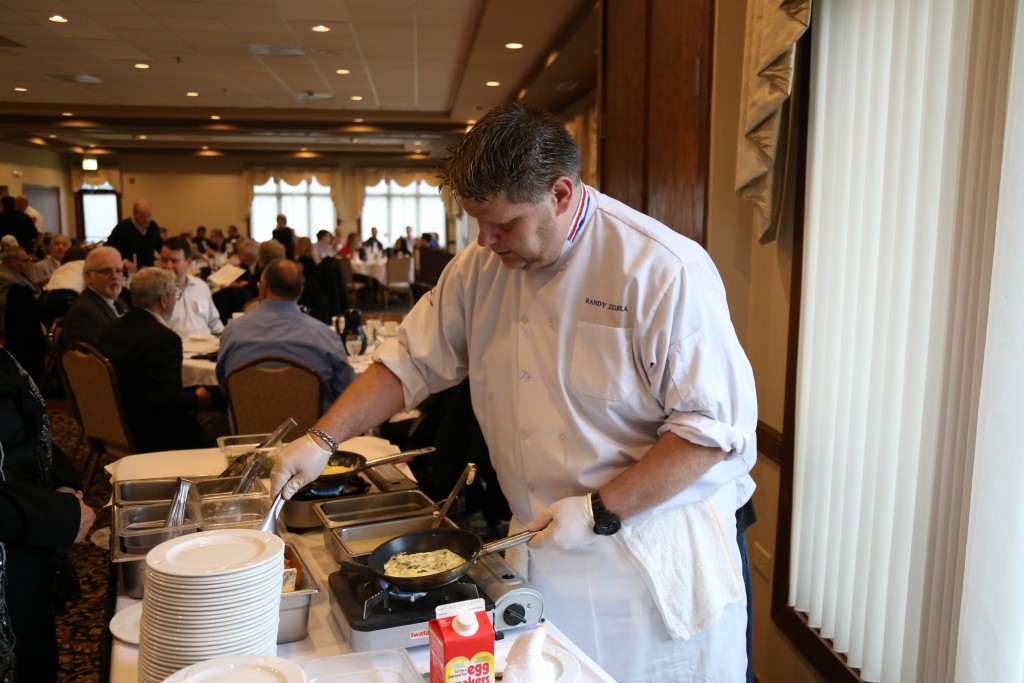 Chef Randy Zelinka has a wealth of culinary knowledge with creativity to suit all different palates.  From a family that has owned multiple restaurants, Chef Zelinka began cooking at the age of eight making authentic Italian food.  He attended the College of DuPage Culinary Program and finished his schooling through Johnson and Wales University where he was able to hone his craft.  He has spent time cooking for Hilton and Wyndham Hotels and co-owned restaurants in Chicago, Cincinnati and Cape Coral.  He was also the Research and Development Chef for Darden Corporate Restaurant Group.  Chef Zelinka is a Certified Chef De Cuisine and an American Culinary Federation Certified Executive Chef.  After an early focus on gastropub comfort food and fusion cuisine, Chef Zelinka has found his true passion cooking an array of food at Glendale Lakes Golf Club.  He takes great pride in researching and perfecting new ideas and food trends.  He will work with you on any dietary, religious or cultural restrictions to ensure you and your guests do not go home hungry and still receive delicious and elegant food. 
Smores Tart
Ingredients:
For the graham cracker crust
1-1/2 cups graham cracker crumbs
1/4 cup (packed) light brown sugar
1 tsp ground cinnamon
1/4 tsp kosher salt
1/4 cup granulated sugar
6 Tbsp. unsalted butter, melted
For the chocolate ganache filling
1-1/4 cups heavy cream
12 oz. bittersweet chocolate (60-70% cacao), chopped
1 tsp pure vanilla extract
For the marshmallow meringue:
8 large egg whites
1-3/4 cups organic cane sugar
1/2 tsp kosher salt
1/4 tsp cream of tartar
1/2 tsp pure vanilla extract
Directions:
Make the graham cracker crust: Preheat the oven to 375℉. Use a food processor to pulse together the graham crumbs, brown sugar, cinnamon, and salt. Drizzle in the melted butter and pulse a few times until well combined. Spoon the crumbs into a 9-inch tart pan, preferably with a removable bottom. Press firmly into an even layer along the bottom and sides of the pan. The flat bottom of a measuring cup works well for this. Place on a rimmed sheet plan to catch any leaks. Bake for 5-7 minutes, until the crust is golden and set. Remove from the oven and let cool completely on a baking rack.
Make the chocolate ganache filling: Add the cream to a large, heavy-bottomed saucepot over medium heat. Bring just to a simmer, then remove from the heat and stir in the chopped chocolate. Continue stirring until the chocolate is completely melted, and the ganache is smooth and shiny. Stir in the vanilla.
Pour the ganache into the cooled graham cracker crust and smooth out the top with an offset spatula. Gently tap the bottom once or twice against the counter to release any air bubbles. Let cool on a baking rack until set, about 2 hours, or about an hour in the refrigerator. Keep refrigerated until ready to serve.
Make the marshmallow meringue: Add 1-1/2 inches of water to a 3-quart pot, and bring to a simmer over medium-low heat. It is helpful to place a crumbled ring of aluminum foil in the bottom to help prop up the mixing bowl.
Combine the egg whites, sugar, salt, and cream of tartar in the bowl of a stand mixer and place over the water. Working constantly, stir and scrape down the sides of the bowl with a rubber spatula until the mixture is thin and foamy, and reaches 175℉. This should take about 10 minutes.
To Serve: Remove from the heat and transfer the bowl to a stand up mixer fitted with the whisk attachment. Starting on low speed and working up to high speed, beat until the meringue is light and glossy with stiff peaks, about 5 minutes. Beat in the vanilla. Immediately add to the s'mores tart
Use a kitchen torch to (carefully) toast the marshmallow meringue.
Asian Banh Mi Chicken
Ingredients:
2 tablespoons coconut oil
2 pounds boneless skinless chicken thighs
1/2 cup fresh lime juice
1/3 cup fish sauce
1/4 cup granulated sugar
1 jalapeno
4 garlic cloves, minced
For the Spicy Mayo
3/4 cup mayonnaise
1-2 tablespoons Sriracha
1 tablespoon rice vinegar
1 tablespoon granulated sugar
For the Street Tacos
2 packages roti, (taco size)
3 carrots, shredded
1 English cucumber, sliced thin
2 bunches radishes, sliced thin
4 jalapenos, sliced
1 bunch fresh mint or cilantro
2 limes, cut into wedges
Directions:
For the Asian Banh MI Chicken: Pour the fish sauce, lime juice and sugar in a medium microwave-safe bowl. Microwave for 1-2 minutes, until the sugar dissolves. Cut the chicken thighs into very small (1/4 inch) pieces. Place in a bowl along with jalapeno slices and minced garlic. Stir and refrigerate for at least 1 hour. (3 hours is best!)
For the Spicy Mayo: Place the rice vinegar and sugar in a small microwave-safe bowl. Microwave for 1 minute to dissolve the sugar. Then mix in the mayo and sriracha. Add more sriracha for extra kick. Refrigerate until ready to serve.
Prep all the veggies. Once the chicken has marinated, drain off the marinade. Then heat a large skillet to medium-high heat. Once hot, add 1-tablespoon coconut oil to the skillet. Then add half the chicken to the skillet. Sear for 4-5 minutes, stirring to caramelize on all sides. Remove and repeat with the remaining chicken.
To Serve: Place a scoop of chicken in roti. Top with shredded carrots, cucumber slices, radishes, fresh mint leaves and jalapeno slices. Drizzle with spicy mayo and serve with fresh lime wedges.
Sage and Apple Roasted Chicken
Ingredients
1 (4- to 5-pound) roasting chicken
4 Tablespoons unsalted butter
1 1/2 Tablespoons minced fresh sage
2 cloves garlic minced
1 apple, cored and cut into wedges
Instructions
Preheat the oven to 450°F.
In a small saucepan set over medium-low heat, combine the butter and minced sage. Cook until the butter is melted and add minced garlic to the butter mixture.
Rinse the chicken, remove the giblets (if included) and trim off any excess fat. Thoroughly dry the chicken then place it in a skillet, nonstick sauté pan or roasting pan.
Brush the chicken all over, as well as inside the cavity, with the melted sage butter then season the chicken all over (including inside the cavity) generously with salt and pepper. Place the apple wedges and smashed garlic cloves inside the cavity then using kitchen twine, tie together the legs.
Roast the chicken for 1 hour, basting it every 15 minutes with the juices and excess melted butter than collect in the pan. (Tilt the pan to collect the juices and spoon them back atop the chicken.)
Remove the chicken from the oven once it has reached an internal temperature of 165°F and let it rest for 10 minutes on a cutting board before slicing and serving